Verdant Recognized at EH&S Summit, Launches New Enterprise Software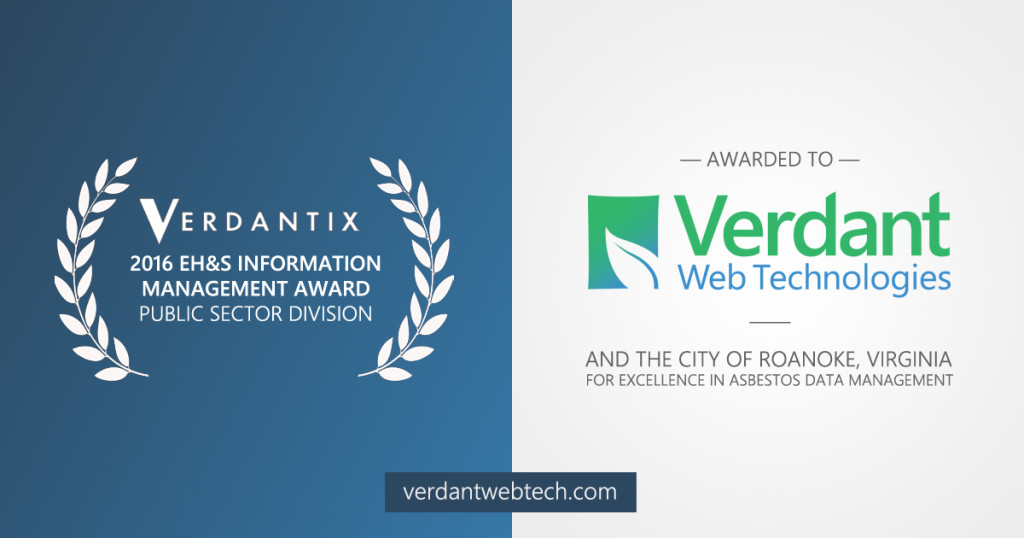 CHICAGO, IL – Verdant Web Technologies, an environmental software firm based in Bend, Oregon, reached two major milestones this week: the receipt of an EH&S Information Management Award by industry solution evaluator, Verdantix, and the release of an upgraded platform for organizing compliance data.
Verdant Web Technologies (Verdant) received recognition by industry leaders in the field of environmental health and safety this week during the EH&S Information Management Summit in Chicago. Hosted by independent research firm Verdantix, the summit and award ceremony focused on analytical tools for environmental compliance management.
The Summit brought together corporate environmental, health, safety, and sustainability leaders to identify best practices for corporate environmental health and safety (EH&S) information management through customer success workshops, VP-level panels, and vendor CEO insights.
The EH&S Information Management award was presented to the City of Roanoke, Virginia and their efforts to digitally organize environmental compliance records using Verdant's EH&S software. "Verdant seemed to have the best approach to what we needed – a database to organize and easily access all of our records detailing locations of asbestos-containing materials in city buildings," said City of Roanoke's Environmental Specialist, Patrick Hogan.
The award highlights the most successful corporate and public sector projects using information management technologies to improve EH&S metrics and overall business performance. The selection process, administered by Verdantix, began with an initial nomination with platform information provided by both Verdant and their client. This was followed by an evaluation by a selection committee of industry veterans.
As partners, Verdant and the City received the award based on product functionality, features, risk management capabilities, customization, and demonstration of successfully meeting Roanoke's environmental compliance needs.
"In working with Verdant, we realized a long-term goal to merge our cumbersome and error-prone mixture of paper and electronic building hazard records into a seamless and easily accessed database," noted the City of Roanoke's Environmental Administrator, Christopher Blakeman.
"Verdant's product is already being used by school districts, health care, Fortune 500 companies, and local governments like the City of Roanoke and Multnomah County," said Verdant CEO, Ron Petti. "We're hopeful that this recognition by Verdantix, an organization with in-depth knowledge of nearly every EH&S solution on the market, will highlight the unique features of our platform," said Petti.
"Our focus is to provide systems that offer a user-friendly interface to quickly access critical information for operations level staff in addition to executive level reports. This was a key selling point for the City of Roanoke and a primary reason our software was awarded. We're also excited to announce the release of our Enterprise Platform, which is a multi-tenancy system with very powerful GIS, data integration, and customization features."
The Verdantix EH&S Information Management Award honors both the organizations who implement compliance management projects, as well as their software and services suppliers. Additional information on the Verdantix award winners is available at:
http://www.verdantix.com/newsroom/press-releases/eh-s-information-management-award-winners-for-2016-announced-by-independent-research-firm-verdantix
ABOUT VERDANT WEB TECHNOLOGIES (verdantwebtech.com)
Verdant provides web-based EH&S management systems for multi-facility clients. Verdant's apps are used by large and small organizations to easily access asbestos and lead information, surface & drinking water data, radon, confined space, and other regulatory records.
ABOUT VERDANTIX (verdantix.com)
Verdantix is an independent research and consulting firm with expertise in EH&S, energy, and sustainability markets. Through our research and advisory services, we help corporate managers, investors, technology executives, and services firm leaders to make robust, fact-based decisions. We are committed to delivering objective, timely, and accurate analysis to help our clients succeed.