EH&S System Overview
Web-based apps that work together
to create an all-in-one compliance solution.
EH&S Management Solutions
Verdant provides web-based Environmental Health & Safety (EH&S) management software for multi-facility clients. Our apps are used by large and small organizations to easily access asbestos and lead information, surface & drinking water data, confined space, and other regulatory records. Our EHS modules can bundled to create a custom platform linkable to other databases and proprietary Work Order systems. More organized and efficient than a paper-based system.
Save time and money on retrieving current records.
Eliminate uncertainty and redundant sampling efforts.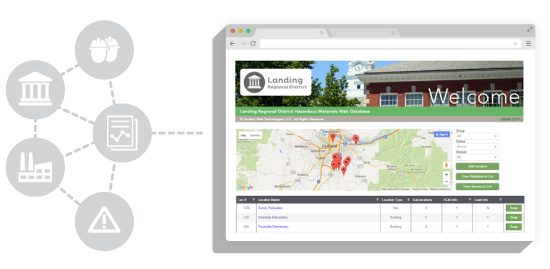 Our EH&S Modules
Our cloud-based system allows organizations to easily track AHERA, asbestos, lead and other hazardous material inspection data completely online.
Scalable
Multi-facility
Grows with you
Upgradable modules
Flexible login creation
Add locations or buildings
Link to 3rd-Party facility packages
Interactive
Link floorplans to materials
Metrics, analytics, and mapping
Update data in-house
View material information
Key performance indicators
Cost estimates
Built-In Reporting
Auto-generate reports & notices
Reinspection functionality
Update the data in-house
Analytics and metrics
Prioritize high-concern items
Access archived information
Portable
Web-based and cloud-based
No bulky software needed
Tablet-friendly
Paperless
Goes where you go
24/7 access
Secure
Encrypted, regulated logins
Off-site backups
Follows numerous ISO 27001 and NIST 800-53rev3/4 compliance techniques
Compliant with EPA and regulatory agencies
Multi-User
Scalable
Executive-level admins for login control.
Field-level logins for reinspection and activity updates.
Visitor logins for contractors, consultants, or public records requests.
Owners & Administrators
High-level, full access to reports, editing capabilities, analytics, and user creation.
Create and manage user-level access
Assign specific locations to select users
Access full analytics and reporting
Generate cost estimates and reports
Facility Managers & Field Staff
Track activities & edit information. View inspection, management & planning info.
Data editing and recordkeeping
Add locations and information
Update quantity, location and field data
Generate reports and notices
Read-Only Users & Staff
Quick access to enabled information, reports, and archived materials.
Easy access and viewing of records
View drawings and photos
Access current reports
View archive documents
View specific material information
Read-only access
Guest Users & Consultants
Used when limited, read-only access to specific areas is required.
Access limited to specific buildings or areas.
Can be used for contractors, consultants, guests, or for public records requests.
Limited to read-only access
Access Made Easy
Verdant connects administrators, facility managers, field staff, employees, and unlimited guest users on the same platform through tiered logins.
Administrators
Create users on-the fly with unlimited or customizable access. View detail on a campus, facility, floor, or room-level.
Field Staff
Interactive floorplans and recordkeeping. Update quantity, location, and field data. Generate reports and notices.
Users & Guests
Create custom logins for guests or public records requests. Limit to campus, building, floor or room-level detail.
Moving to Verdant: The Process
Step 1:
Analysis & Review
Discuss and determine which compliance modules meet your needs, and review any archived reports or data you currently have on-hand for transition to the new system. We can work with your facility base plans, layering critical environmental information for users.
Step 2:
Creation & Integration
Customized modules are uploaded to a web-based environmental management site, collaborating with other service providers, as necessary. We can also provide field verification and inspections to establish current conditions with a qualified third-party inspection company.
Step 3:
Training & Support
Remote or on-site instruction is conducted for users to learn about the platform and how to efficiently access and update the information on your site. Ongoing support is provided from our help desk as needed.
Get started today.
We'll walk you through the process, step-by-step. From compiling your archived reports, to generating a database that grows with you, Verdant has you covered. Request a free demo to see how Verdant can save your organization time and money on costly health & safety records maintenance.